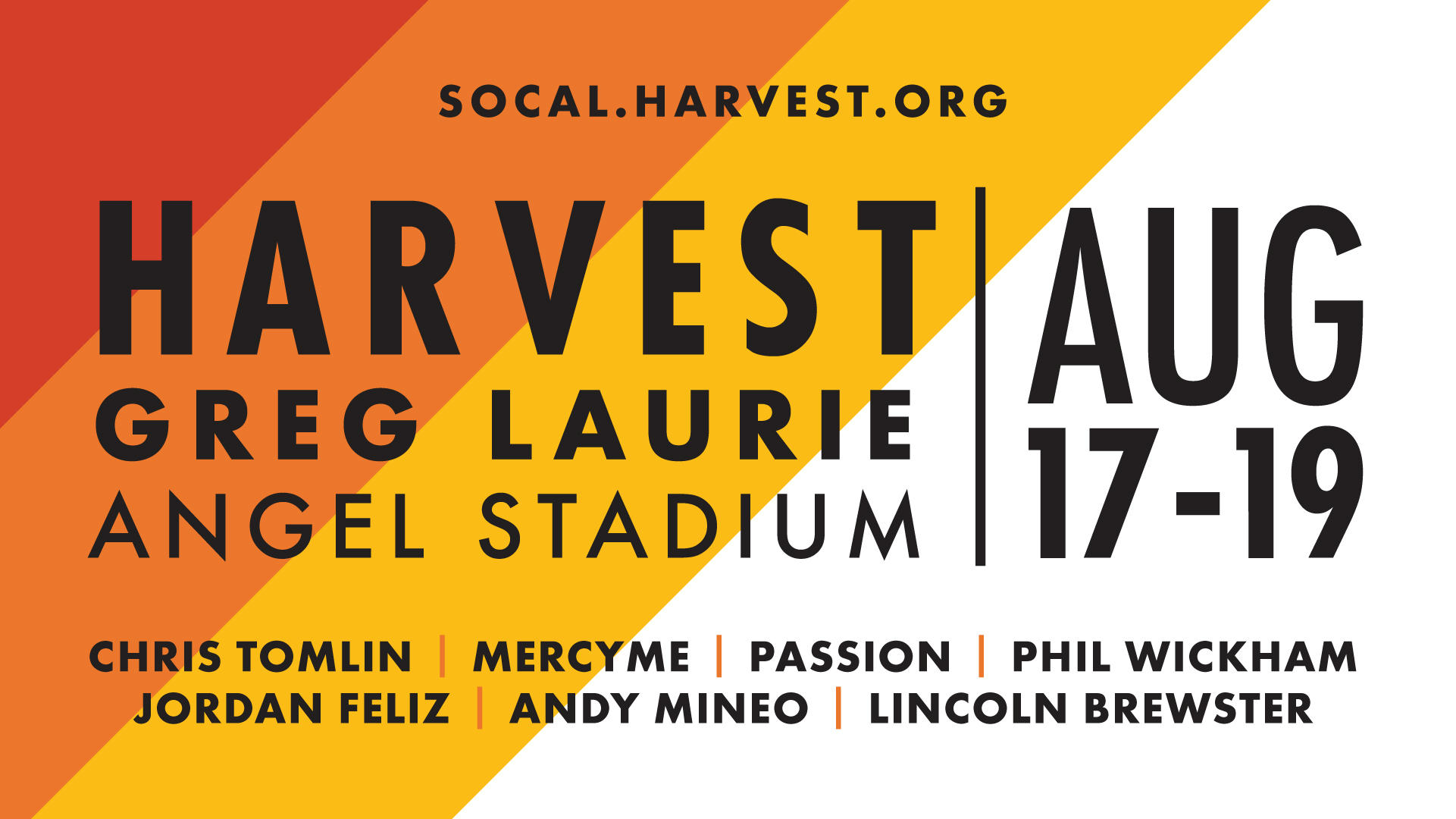 Love Does is a monthly project that we take on as a Church to put our love into action.
"Pray, Invite, Bring" |  SoCal Harvest Crusade  |  August 17–19
This August we have the opportunity to participate in the SoCal Harvest Crusade at Angel Stadium in Anaheim. Who might you bring?
What is SoCal Harvest?
SoCal Harvest is a free, three-night event at Angel Stadium in Anaheim, California on August 17–19, 2018. In its 29th year, the event will feature music from top Christian artists, plus a gospel message by Greg Laurie. Pastor Greg will answer some of life's most important questions, such as, "What is the meaning of life?" and "What happens when we die?"
Harvest events are designed to be opportunities for Christians to invite family members, coworkers, friends, and acquaintances to hear the life-changing message of the gospel in an environment that is entertaining and non-threatening. More than 8.9 million people have participated in Harvest events in person or online since 1990, with 509,897 of them making professions of faith.
For more information visit the SoCal Harvest Crusade website here.
June 2018: "Share"
In June we are emphasizing sharing the goodness of God with others. The most important way we can do this, is by sharing our faith. By stepping out in love and boldness we are all called to tell others what Christ has done for them. This can often be initiated by sharing first what Christ has done for us personally.
We received a helpful handout card at church with guidance on "How to Share Your One Minute Message." This means sharing your own personal testimony on how Jesus changed your life in a short, concise way.
May 2018: "Pray"
In May we made time to pray. Giving thanks to God by listing what we are thankful for. Praying for our families. Praying for our daily provisions and praying for the needs of others. Praying to know the Lord better. Praying for those who don't know the Lord and how to reach them. Some people chose to fast (partial or all day, if possible) on Fridays.
April 2018: "Love the Homeless"
In April, as a church, we put together blessing bags of snacks, water, personal hygiene and other items to give to the homeless. Then we gave one or two or a few of them out personally as needy people came across our path in the days and weeks ahead.
March 2018: "Love our Neighbor"
For the month of March, it's "Love our Neighbor" through Pray/Invite/Bring. We started off by praying for our neighbors by utilizing the pray cards. Next, we are hitting the streets on March 24 to hand out invitations and door hangers inviting our neighbors to Easter at Life Point. Then it's bring a neighbor with you to Easter.
February 2018: "Love our First Responders"
In February we collected gift cards and took them to some North County Fire Stations and let them know that we appreciate them, are thankful for them and prayed for them.